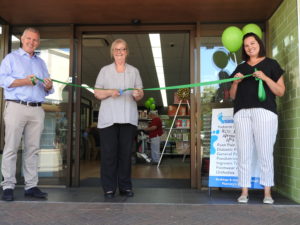 Birthday celebrations… Michael Flannery, Debbie Prior and Sarah Hazel at the ribbon cutting of the diamond anniversary and opening of the new-look store of Flannery's Pharmacy last Thursday.
Calling All Golfers: Golfers are encouraged to sign up for The Longest Day, a 72-hole golf marathon, to raise funds for Cancer Council NSW. The Longest Day will officially take place on Monday 18th December, but participants can hold their event at their local golf club anytime during December. Participants are challenged to play four rounds of golf in one day at their own club with their friends and fellow members. Anyone can register for The Longest Day and raise funds for Cancer Council NSW. A minimum of two players are needed to form a team. Choose a day and contact your club to book four tee times, then head to www.longestday.org.au to register and start fundraising.
Home Safety And Expo Raffles: Winners of the Home Safety and Expo held at Acheson's Home Timber and Hardware are: 1st is Peter Bourke (TV); 2nd is Phyllis Miller (wheelbarrow and other garden goodies); 3rd is Jeff McRae ($100 gift voucher); 4th is Trevor Curry ($75 gift voucher); 5th is Jeanette Hodge ($50 gift voucher) and 6th is Nancy Parry (sensor light and keyless lock). Thank you to all who purchased a ticket from the volunteers. Thank you to Bernardi's, Woolworths and News On Rankin for allowing to sell the tickets outside their shops.
Licensing Changes For Young Drivers: Changes to the state's Graduated Licensing Scheme are set to ensure new drivers become safe drivers. Changes will come into effect from Monday, 20th November 2017. They are designed to improve the way the scheme prepares novice drivers – in particular young drivers – to be safe. The Graduated Licensing System takes drivers from their learner licence to full licence with restrictions and conditions that are designed to ensure they build their skills and knowledge so they understand risks and are safe on the roads. The three main changes include: Learner drivers will now be required to complete the Hazard Perception Test before undertaking the practical driving test; Provisional 1 drivers (red P Platers) no longer have to undertake the Hazard Perception Test to graduate to their provisional 2 licence (green P's) and The Driver Qualification Test has been removed for P2 drivers to graduate to a full licence, though a six month extension will be imposed if a P2 driver receives a suspension for unsafe driving behaviour. To find out more visit www.rms.nsw.gov.au/licence.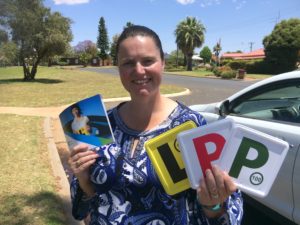 Parkes, Forbes and Lachlan Shire Councils' Road Safety and Injury Prevention Officer, Melanie Suitor, can be contacted for further information about the licensing changes.