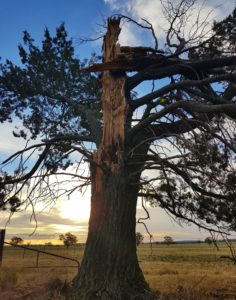 And the winner is… Louise Allen for her shot entitled "Spring Destruction – The Aftermath of a Spring Wind Storm". Louise has won our Spring Photo Competition with this image and is the winner of a picture donated by Aerial Antix! Well done Louise, and thank you to everyone who entered!
Dancing Stars Success: Forbes Can Assist members are ecstatic over the incredible success of Dancing Stars which saw $61,000 being raised. Thank you to Terese, Cassandra and crew for their many hours of organisation, to the dancers for their absolutely brilliant performances and most importantly, the incredible generosity of the audience and the community of Forbes. A huge thank you must also go to the Forbes Services Club who did everything possible to ensure that the night was such an outstanding success. Thank you to everyone who helped, attended or assisted.
New General Manager Appointed: Forbes Shire Council announced the appointment of Steve Loane as the new General Manager. Steve comes to Forbes Shire Council after six years as the General Manager of Warrumbungle Shire Council. He has extensive experience in senior management with Naracoorte Lucindale Council. In addition he also spent years at the helm of the Australian Livestock Marketing Association and is the organisation's first life member. He is a licensed stock and station agent, has a Diploma of Agriculture and spent years as the Director of his stock and station agency. Steve will commence duties on Monday, 13th November.
Forbes White Ribbon Day: Annual community march in support of Australia's campaign to stop men's violence against women. Meet at Cross Street in front of Carpet Court on 24th November at 10am and finish in Victoria Park. Youth will share their thoughts on why it is important to stand up and speak out against violence and how together we can make Forbes a safer community. All of Forbes community are invited.
Sweet Three Vintage Van: Friends and family can enjoy a relaxing atmosphere over weekends at the Lions Park. With a Sweet Three Vintage Van picnic rug or bean bag, enjoy one of their Belgium waffles, vintage milkshakes or soft drinks, while utilising the beautiful lake and park.
Keep An Eye Out: Police from the Lachlan Local Area Command are reminding people to take extra care of their personal possessions when out and about. Phones, wallets and handbags can be popular items targeted for theft due to their size and concealability, and often having value inside these items, such as cash or forms of identification. Everyone can take simple precautions to ensure their property isn't targeted by criminals. For further information contact the Crime Prevention Officer, Lachlan Local Area Command on 6862 9999.
The Forbes High School show team have ended the season on a high. Kyle Bolam won first place in the experienced paraders class and Champion parade. He has qualified for the Sydney Royal Easter Show paraders competition in 2018
.