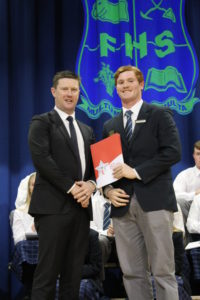 Best All Rounder Award: Forbes High School has announced Year 12 student, Nicholas Mulligan as the school's recipient of the 2017 Caltex Best All Rounder Award, one of Australia's most prestigious secondary school prizes. Nicholas receives this award for excellence in studies, on the sports field and for work in the community. He has been the recipient of this award for two years in a row.
Spring Photo Competition: The Forbes Phoenix has teamed up with Aerial Antix to launch a spring photo competition. With Spring all around us, you can point your camera just about anywhere to get a scenic shot. We would love to see the great photos our readers can come up with. A wonderful prize is up for grabs – a picture donated by Aerial Antix! The competition will run until the end of October, with entries to be submitted to The Forbes Phoenix by Tuesday, 31st October. Entries can be sent to sales@forbesphoenix.com.au or via our Facebook page.
Service Providers Information Day: Presented by The Forbes Interagency Group on 31st October at Victoria Park from 10am to 2pm. Please come along to find out more about the multitude of services in the community. BBQ and giveaways on the day. Services available: Meals on Wheels, Community Transport, Centacare and many more. The Australian Government Mobile Service Centre will be on location to help rural families, older Australians, students, job seekers etc.
#Montefamousreview: Diana Anaid – My Queen. Dedicated to all the strong woman in her life, each of the 11 tracks brings a message of empowerment and determination. Diana's vocal range on the album demonstrates how versatile she is. At times sounding like Kate Bush mixed with Alanis Morissette with a sprinkling of Kate Ceberano and Kasey Chambers, you are in for a journey of music euphoria. The feel of the "My Queen" is one of homage to the great female rock albums of the 90's dragged dazzlingly into 2017. The album will get you dancing, humming and motivated and wanting to play it on repeat all day. It is the #Montefamous must have album for November!
Forbes open for business: The Forbes Shire has set a new record with the value of development applications in September reaching almost $22 million. In total 10 development applications and 1 modified development application were lodged, with the 11 applications totalling $21,735,946. Over the past decade, the yearly average for development application value sits at $23.3 million dollars.
The Red Bend Catholic College League Tag teams playing in Grenfell on Wednesday.