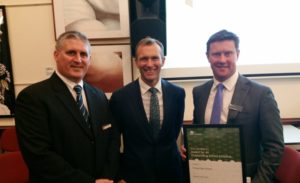 Wellness Hub acknowledged… Forbes High School Relieving Principal Jason Nottingham (left) with Education Minister Rob Stokes and Relieving Director for Public Schools Charles Dwyer at the Public Education Foundation Minister's and Secretary's Awards 2017. Forbes High School's Wellness Hub received the Secretary's Award for Outstanding School Initiative 2017.
Boscar Certificate Collection: For those finalists and winners who did not attend the Boscars, your certificates can be collected from News on Rankin.
Winners of NetWaste BYO Cup and A Discounted Coffee: It looks like there is still a lot of confusion about which bin a disposable coffee cup should go into. The correct answer is the red bin. Disposable coffee cups cannot be recycled because of a plastic coating on the inside of the cup. That is why it is very important to make use of a reusable cup to help reduce the ONE BILLION cups going to landfill in Australia every year!
Congratulations to the following winners! Jack McKinley, Karen Wright, Steven Cook, Aileen Hansen, Vanessa Rose, Michael Daaboul, Sahejin Siddiqui, Laura Power, Natalie Walker, Tom Roose, Allan Morrison, Johnson Page, Chris Sindermann, Garry Smith, Jessica Bennett, Tyson, O'Rourke-Halls, Andrew Khotsimeuang, Vinson Peng, Laura Torry, Cathi Nicol, Renee Ballantyne, Luke Day, Melissa Westcott, Robyn Stephens, Steve Lewis, Belinda Suttor, Monica Hubele, Danielle Woods, Dinesh Peethamparam, Stuart Blakeley, Morgan Blysouth, Michael Simpson, Vivianne Vandenberg, Leda Nguyen, Jane Gardam, Damian Jensen, Lauren McClure, Robert Coel, Christian Hill, Amy Ward, Lucy Kliem, Daniel Lawrence, Cassandra Watts, Brian Butler, Brian Wong, Kylie, Walmsley, Stephanie Koufalas, Ros McFarlane, Tom Lockett, Conor Cadden. Pantry Café & Catering at 8 Templar Street shows the way! The lucky winners can pick up their cups at The Pantry in Forbes and fill it with a 50% discounted coffee kindly sponsored by The Pantry!
New School Holiday Competition: Win a Special Family Pass to the Taronga Western Plains Zoo in Dubbo for two adults and two children including a Savannah Safari and standard bike hire. Enter online via our website www.forbesphoenix.com.au for your chance to win. Competition closes Monday, 25th September.
Spring Photo Competition: The Forbes Phoenix has teamed up with Aerial Antix to launch a spring photo competition. With Spring all around us, you can point your camera just about anywhere to get a scenic shot. We would love to see the great photos our readers can come up with. A wonderful prize is up for grabs – a picture donated by Aerial Antix! The competition will run until October, with entries to be submitted to The Forbes Phoenix by Thursday 28 October. Entries can be sent to sales@forbesphoenix.com.au or via our Facebook page.