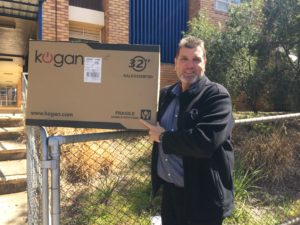 Congratulations… To Steve McAlister from Forbes North Public School who was the winner of this year's Forbes Phoenix NRL Footy Tipping Competition. Steve is the proud owner of a brand new TV! Linda Reilly from Forbes Physiotherapy was the runner up.
#Montefamousreview: Gretta Ziller –Queen of Boomtown.
Gretta is a Melbourne artist who has had a very diverse musical journey. With a background spanning rock, pop, classical, jazz, folk and bluegrass, Her much anticipated album Queen of Boomtown has burst into the music sphere living up to its name, as her voice booms at the right times, and sooths you tender moments. Gretta is simply stunning; her voice takes you to beautiful places as she sings her heartfelt stories. She will also rattle your musical soul with her masterful command of lyrics. Queen of Boomtown is a brilliant example of alternative country story telling. This album is the #Montefamous Review must have for September.
Night Tennis Competition at the town courts:
The competition is planned to start on Tuesday, 10th October. Teams can be of any gender combination. Nominate a team of four players but you may have more, only four play each night. Team members do not need to be the same each week. Individual players can nominate and reserves are also needed. Fees will be $8 per night and all players are to become club members by the third night of competition. Adults $45, Seniors $35 and school age $20. Play starts at 7.00pm. Entries in by 30th September. For further information contact Peter 0403 335 205 or Robin 0428 635 558. Entry forms are available from the clubhouse or by email forbestennisclub@gmail.com .
Spring Photo Competition:
The Forbes Phoenix has teamed up with Aerial Antix to launch a spring photo competition. With Spring all around us, you can point your camera just about anywhere to get a scenic shot. We would love to see the great photos our readers can come up with. A wonderful prize is up for grabs – a picture donated by Aerial Antix! The competition will run until the end of October, with entries to be submitted to The Forbes Phoenix by Tuesday 31 October. Entries can be sent to sales@forbesphoenix.com.au or via our Facebook page.