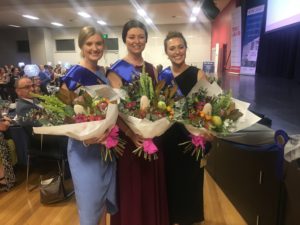 Forbes Showgirl Grace Allen and Eugowra Showgirl Caitlin Herbert were selected to represent our zone at the state finals of the Land Royal Showgirl competition in Sydney at the Easter Show on Sunday, 25th March.
The two girls were selected from 17 entrants at the Zone 6 Regional Showgirl Finals held in Blayney on Saturday.
The entrants were interviewed by three judges in the morning and attended a lunch with all the other entrants and judges. Finally, a formal presentation dinner was held in the evening which completed the judging process. All the girls were interviewed on stage in front of attendees and the judges. At the conclusion of the evening, the three finalists were announced.
The Showgirls were judged on rural knowledge, presentation and speech, personality, general knowledge, confidence and ambition and life goals. Knowledge of their local community and current affairs and their involvement in and experience of rural affairs were taken into account.
Grace is a registered nurse completing her studies at Sydney University. She is now employed in the emergency department at the Orange Health Service.
Caitlin is a oral health therapist and runs a dental education program providing presentations to rural schools.
According to an excerpt from the Rules and Regulations of Showgirl Competitions, "The aim is to find a person most suited to represent young rural women of NSW. She should be able to converse intelligently about Australia in general and in particular her own district."