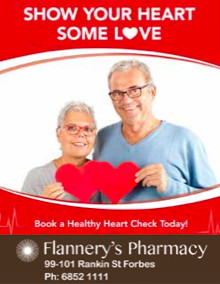 Did you know that heart disease is the single leading cause of death in Australia?
This means that on average, one Australian dies from heart disease every 26 minutes.
Heart disease is associated with a number of factors including high cholesterol, high blood pressure and can lead to heart attacks, strokes and heart failure. Many of these signs are silent meaning there are no obvious symptoms. That is why it is important to have regular checkups with your pharmacist and GP.
There are a number of simple measures that you can take to reduce your chance of suffering the complications of heart disease, such as:
• Know your blood pressure (have it
checked regularly at the pharmacy).
• Exercise – as little as 30 minutes brisk walking, five times per week.
• No smoking – smokers are six times more likely to suffer a heart attack than non-smokers.
• Get tested for diabetes and keep it under control.
• Know your cholesterol and triglyceride levels – ask your GP.
• Eat lots of fruit and vegetables.
• Maintain a healthy weight – the higher your BMI the higher your risk of heart disease.
• So show your heart some love and don't become a statistic!
Help us to help you avoid heart disease and get to know 'your numbers'. Call into Flan- nery's Pharmacy or Life Pharmacy for a blood pressure check, a cardiovascular risk assessment, quit smoking assistance and weight loss support – all of which are free during the months of May and June.