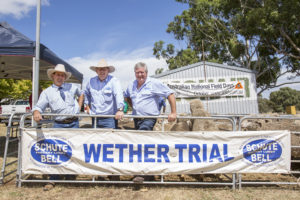 The much anticipated Sheep Field Day returns to the Australian National Field Day (ANFD) site, near Orange in April.
The Australian National Field Days' Administration Manager, Jayne West said the event on Thursday, 19th April is an exciting addition to the Field Days' calendar.
"Last year's inaugural Sheep Field Day attracted farmers from across NSW. The success of the day has cemented the event as an annual fixture. The Sheep Field Day creates a one-stop-shop for all sheep related products, meaning farmers can access the latest information and products all in one location, on the one day. There'll be a variety of exhibitors at the event providing sheep producers with a unique opportunity to interact with the best in the field," said Jayne.
"Exhibitors will be displaying automated drafting systems, sheep handlers, stockyard systems, animal health products, electronic ear tagging and livestock management systems, as well as nutrition, supplement feeding and pasture management. "In addition to the variety of exhibitors, a number of information seminars will feature.
Talks will include the much anticipated release of the MSM Stockfeeds' Supplementary Feeding Trial results, along with a farmer feedback panel focusing on lamb feeding. Other talks include Ian Crafter from Atlex Stockyards, who'll discuss the evolution of the sheep yards and look at how animal psychology and precision technology continues to evolve the modern yards. Dr Kathryn Egerton – Warburton from the NSW DPI will give a presentation on sheep genetics and results from the trials currently being run in a variety of sites in NSW."
Exhibitor sites are available to all companies related to the sheep industry and can be booked by calling the ANFD office on 02 6362 1588. Gates open at 9am on Thursday, 19th April and entry is free.