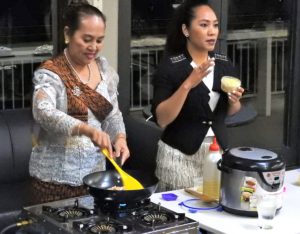 The exotic spices and light, fresh flavours of traditional Cambodian foods were available for all to enjoy last Friday night at this year's first multicultural event. Forbes Council hosted the event, which was held at the Golf and Sportsman's Hotel, and included a cooking lesson, dinner and entertainment.
Locals from all backgrounds and cultures came along to enjoy the dinner. Guests were encouraged to bring a plate of food to share, to add to the Cambodian meals prepared by Nin McKenzie and Navy Yem.
While guests watched, Nin and Navy shared the secrets to putting together two fragrant and delicious chicken dishes, which were later enjoyed with steamed rice, spring rolls, pastries and other treats brought by guests.
During dinner, the function room was abuzz with the sound of conversation and laughter and the sharing of stories. As they finished eating, kids of all ages left the tables to play with new friends, while their parents enjoyed relaxing over a meal they neither had to prepare or clean up after!
After the meal, eleven-year-old Hannah Dun-Cayo treated the audience to some music. She sang three songs, including a solid rendition of the Amy Winehouse tune, Valerie.
Blake Nicholson, Council's Community Relations Officer, said the event aimed to contribute to an inclusive and welcoming Forbes shire, bringing together residents from all cultures to help make everyone feel welcomed and included.
"We're extremely happy with the success of last Friday's dinner, and we'd like to make it a regular event. At this stage we are thinking once a quarter," he said.
Any local groups or individuals who would like to be involved can contact Blake on 6850 2355 or via blake.nicholson@forbes. nsw.gov.au
By Rochelle Bright