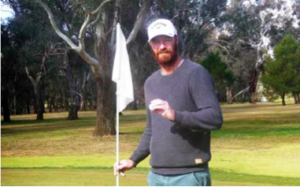 On Saturday, Shane Sallaway eclipsed all the Monthly Medal contenders with his Hole-in-One on the 18th hole. The shot was straight and true, rolling in for only his second 'ace' ever.
The field for the Monthly Medal 18-Hole Stroke sponsored by Walkers AGnVET, saw 69 players compete against the tight fairways and well-placed pins.
Richard Nixon won the A-grade with a nett 72, which included only one birdie. Runner-up was Barry Shine with 73 nett and on count back from two others.
The B-grade went to Malcolm Langfield with a cool nett 72. Behind him Adam Borg- er got the nod on count back with Nett 74.
In the C-grade the winner was Denis Culley with a 73 nett. Don Ridley was the best of the rest with his nett 75 to finish runner-up.
The ball sweep went to 77 nett on count back, going to: 72 – M Langfield, R Nix- on; 73 – B Shine, P Dawson, D Culley, D McAuliffe; 74 – P Cowhan, S Sallaway, A Borger, M Spice; 75 – P Grayson, P Py- mont, D Ridley, G Coles; 76 – R Sander- son, B Carpenter, R Smith, P Kay, J Ridley, D Churchill; 77 – S Hayes.
The NTP's went to: 9th – P Tilden; 18th – S Sallaway. Peter got his "2". There were six 2s overall, with the 3rd being the easiest target.
Sunday's Stableford Medley had a good following once again. Bruce Carpenter won the day with 37 points, slipping away from Ray Taylor with 35 points. The ball sweep went to 33, being awarded to Jill Cripps. The NTP's went to: 9th- J Cripps; 18th – E Coombes.
Membership fees are due and must be paid for players to be eligible to win any of the closely scheduled Championship events.
In addition to existing membership categories, there are two new options. The new limited membership allows a player to compete in 15 Competition events through the year; and new social membership al- lows a player to pay members rates for Social, Summer 6s and Winter 3s golf. More details are available at the Pro Shop or from a Management Committee member.
Sat July 15 and Sun July 16 is the Men's Foursome Championships, sponsored by S & S Welsh Transport. There will be a Stableford Medley on Sunday 16, with tee time preference to be given to the Four- somes Championships.