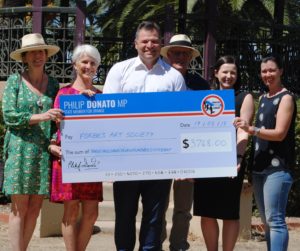 The Forbes Arts Society received some good news on Monday when Shooters Fishers and Farmers MP Philip Donato, announced their success in applying for a 2017 Community Building Partnership grant.
Philip presented members of the Forbes Arts Society with a cheque for $3,768, which is the amount they sought to build 15 demountable structures to provide shade and shelter for caterers at the 'Grazing Down The Lachlan' event which attracts visitors from a wide area.
"I am pleased to be visiting Forbes to make this announcement and that the Forbes Arts Society has received the full amount outlined in their grant application," said Philip.
"Grazing Down the Lachlan' has developed into a very successful event, thanks to the vision and hard work of Forbes residents and they are to be congratulated."
Chair of 'Grazing Down the Lachlan', Wendy Muffet said the organisation is delighted to hear the news that the shade structures will be funded with the assistance of the Community Building Partnership  grants program.
"This funding for the shade structures is such a boost for us and will ensure we can continue to add value to our event without us having to find the finance and we are looking forward to another successful event this year," she said.
The event will be held on 22nd September at the 9 Mile Reserve on the banks of the Lachlan.