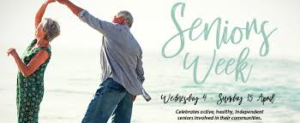 Seniors Week Begins
Seniors Week is a festival designed to thank, celebrate and recognise seniors for the role they play and the contributions they make to the community.
Forbes Shire Council is a proud supporter of the NSW Seniors' Festival which is now in its 60th year. If you are over 60, NSW Seniors' Festival gives you the chance to make new friends or get together with old ones at an array of local community events. Seniors Week this year will start off with a concert at the Forbes Town Hall on Sunday, 8th April from 2.00pm.
From 10.30am on Wednesday 11th April, Mater Aged Care is hosting bingo. Families and community members are welcome to attend with great prizes on offer.
Jemalong Residential Village will be hosting a BBQ and entertainment on Thursday, 12th April from 12noon. The community is encouraged to come along and get involved. For information contact Briony on 6850 2355 or email briony.ferguson@forbes.nsw.gov.au.
Preventing Macular Degeneration
Macular Degeneration (MD) is a progressive eye disease in which the photoreceptors at the macular start to deteriorate and die due to the breakdown of the retinal pigment epithelium (RPE). This causes a build-up of retinal metabolic waste that clinically appears as yellow spots, called drusen."
Ways to promote macular health:
• After you turn 50 years old, have your eyes and macular checked regularly (every two years) by your optometrist.
• Abstain from smoking.
• Have a well-balanced diet. Include fresh fruit and vegetables (especially green leafy vegetables) daily, oily fish 2 to 3 times a week, handful of nuts a week and limit fat intake and high-GI carbohydrates.
• Exercise regularly and maintain a healthy body weight.
• Have adequate sun protection for your eyes.
Make an appointment today at Hansen Optometrists.