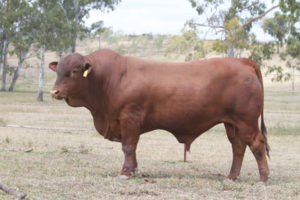 The 5 Star Senepol and African Hybrid Bull Sale was held at CQLX Gracemere in Queensland last month. The sale was a huge success for Geoff and Alison Maynard of Mt Eugene Jambin.
A total of 78 out of 80 bulls were sold on auction with the remaining two sold afterwards. The average of the sale was $6,853, with the top of the sale, Lot 25 a purebred Senepol, selling for $16,000 to the Heatley Cattle Co in Northern Queensland.
Clayton and Sarah Maynard from Southern Star Rural, Canowindra had 13 lots for auction at the sale. All lots sold with a top of $6,500. On offer at Southern Star Rural are a variety of purebred Senepol, and crossbred Senepol/Angus (Senegus) and Senepol/ Charolais (Senelais) bulls.
For more information contact Clayton Maynard on 0439 029 204 or email clayton.maynard@southernstarrural.com.au