Bedgerabong Swimmers To Sydney
Bedgerabong students Ryan Pritchett, George Matthews, Annabelle Hain and Patrick Bird took part in the Western Region swimming trials. They came third in the Peter Dobson relay for small schools, and will be competing
at the PSSA State Swimming Carnival early April. Ryan Pritchett, with a first place in the 13 years boys freestyle, will be competing in two events in Sydney.
Forbes North Public School sent 24 students to Condobolin for the district swimming carnival. We had to be at Forbes Public School bus stop at 7am so we could catch the bus at 7:15am.
On the bus people were very excited. It took us an hour to get there. When we got there we got to get in the pool for our warm up lap. After a set time the racers got called and the pool got cleared. There were all different styles from freestyle to butterfly.
Sadly there were many disqualifications. Most of them were in butterfly and breast- stroke. In breaststroke you can get disquali- fied if your hands or feet break the water. You can also get disqualified if your hands go to far back or if your hands go down. Fortunately we had two successful students who made it to the third level. They were Annaliese and Jakiel. Annaliese made it for 50m butterfly and Jakiel for 50m freestyle. They went to Dubbo for the third round on Friday, 10th of March.
By Lauren House (Year 6)
Red Bend Blingo
The new phenomenon of Blingo will arrive in Forbes soon with the Red Bend Catholic College inviting parents and friends to come dressed to the nines in glamorous over the top evening wear and far too much jewellery.
A prize will be offered for the King and Queen of Bling for those who dare to dress up for the event at the Forbes Services Memorial Club on Friday, 31st March with 20 bingo games on offer.
The first game will start at 7.30pm, doors will open at 7pm. The renowned Molly Neilsen will be the experienced caller and director of proceedings. Cost will be $20 for 20 bingo games. Extra bingo games can be purchased. Prizes include $25 Why Leave Town vouchers, and raffle tickets will be available at the door at $2 each or three for $5. Players must be present to collect either a pamper basket of Jamberry products or a barbeque hamper.
During intermission, the walk up air-guitar competition has an iTunes voucher as prize.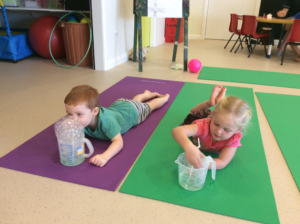 Movement and Play at Forbes Preschool
With the support of an occupational therapist and speech therapist the Forbes Preschool developed a program to support children in all areas of development through movement and play. Children learn how to regulate their bodies, an essential skill for when they play and learn. This term the focus is on core stability and breathing. Good core muscles is vital to sit and attend! Pictured are Cael Ryan and Alice Davies using their core muscles and taking deep breaths to blow lots of bubbles.
St Laurence's News
St Laurence's Parish School community celebrated Catholic Schools Week in early March starting with a well-attended community barbeque breakfast on Monday.
The school community came together for the Mass on Wednesday to give thanks for the parish school and also reflect on this year's theme: Catholic Schools: Great Learning, Great Communities.
A significant event at the conclusion of the week was the annual school fete on Friday evening. While this annual event is a significant P&F fundraiser for the school it is also a fantastic gathering and community building opportunity.
Last Monday St Laurence's hosted the World's Greatest Shave. At an emotional assembly the school community witnessed the actions of three very special and most giving people. Scarlett Garland, Tom Mas- lin and Graeme Uphill demonstrated what it is to be completely selfless for the benefit and well-being of others in honour of an- other special little girl, Ava Garland and her beautiful family.
The tremendous trio raised in excess of $13,000 for the Leukemia Foundation in support of research and families.