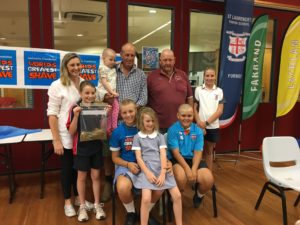 Two days before her 14th birthday Scarlett Garland divided her thick long blonde hair into four ponytails so each of her sisters could cut one off. Trish Craft of Hair with Style finished the job giving Scarlett a number 3 haircut. "I'm proud to have raised more than $10,600 to fund research and support other families just like us," said Scarlett. "Imagine if this money was enough to help them find a cure and end people being diagnosed with leukaemia forever. That would be amazing!"
Scarlett is the eldest daughter of Andrew and Kathy Garland of Wirrinya's five daughters. Second oldest is Olivia (11), Polly (9), Willa (7) and Ava (3). Ava was diagnosed with acute lymphoblastic leukaemia in June last year. "She was diagnosed within 12 hours of seeing a doctor in Forbes," said Kathy and "commenced treatment within 36 hours."
During Ava's intense treatment, Scarlett boarded at Red Bend and Olivia, Polly and Willa lived with their aunt in Orange. Ava is now home whilst undergoing oral chemotherapy. "Things that may have annoyed me nine months ago, don't even phase me anymore, it is just so nice to have the gang back together," said Kathy. Scarlett made the decision to participate in the Leukaemia Foundation's 2017 World's Greatest Shave for a Cure to support her younger sister through two years of treatment.
"It was a long way out when Scarlett made her decision to shave her hair off, but she never changed her mind. She wasn't even nervous on the day," said Kathy. "It will be fun to grow my hair back at the same time as Ava does," said Scarlett. "Thank you so much to everyone that
has left nice messages and donations, you have all helped me become the 14th highest fundraiser in Australia," said Scarlett.
Tom Maslin, school captain at St Lawrence's also participated in the World's Greatest Shave as did Graeme (Dorsey) Uphill their bus driver. He had his eyebrows and moustache shaved off. In all, a total of nearly $13,000 has been raised. "We are truly overwhelmed by the support
the community of Forbes has shown us. Some parents at the Oncology Department at Westmead Hospital in Sydney do not even know their neighbours. I just don't know how they would get through something like this without support," said Kathy.