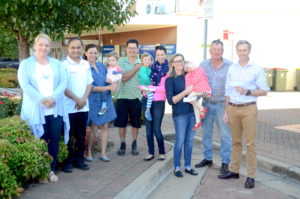 Six community groups and individuals were on the receiving end of funds raised at the sixth President's lunch of the Forbes Rugby Club.
Chris Sweeney, organiser of the lunch, said it was great to be able to support the community. "The lunch is not all about rugby. It is great for over 800 people to come together and have fun, but it is just as wonderful to be able to support our community."
Over the past six years we have been able to give $100,000 back to the community, while the club boosted its funds by the same amount. Chris said anyone wanting to attend next year's lunch should keep 17th March 2018 open.
This year the beneficiaries were the Forbes Badminton Club, Forbes Running and Triathlon Club, Forbes Toy Library, Forbes Public School Special Unit and the Garland family all receiving $1,800. The Forbes Town and District Band received $300 for performing at the lunch. The Forbes Public School assisted on the day with rubbish collection.