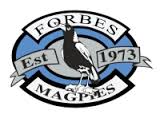 FORBES Magpies have continued their strong run in the Group 11 Rugby League competition with convincing wins on the road last Saturday in all three grades against Narromine.
The Firsts won 40-16, with second-rower Ben McGuire scoring three tries. The side remains in third place on the competition ladder, behind Parkes and Dubbo CYMS. The Reserves won 30-6, while the Under 18s toppled Narromine 48-8. Both teams remain on top of their respective ladders.
But there are some tough days ahead for the Magpies. Next weekend they're at home against Cobar, who shouldn't provide too many obstacles in any of the three grades. But after that there are road trips to Wellington and then to Dubbo to face Macquarie and those will be much tougher asks.