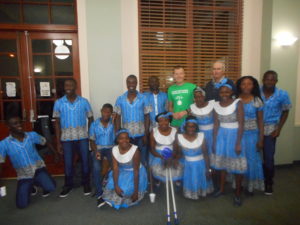 Forbes Town Hall was recently packed to capacity with citizens who had come to hear the Seeds of Hope Choir from Ndola, a large city in Zambia.
The choir was composed of teenaged students of the Grace Academy, which is run by the Canadian charity, Seeds of Hope. The audience responded enthusiastically to the singing of songs in the student's native language, accompanied by clapping, dancing and drums.
What many in the audience may not have known when they entered the Town Hall is that the students who sang and danced had all been affected by AIDS in their native country. Some of them told their stories. Most are orphans who have lost their parents to the disease, which had also been passed on to them.
Because of the improvement in AIDS treatment, they will now live normal lives with the help of Seeds of Hope which pays for this treatment and most hoped to become professionals who will help their country rise out of poverty and disease. They sang their hearts out in thanks for the future they can look forward to, thanks to Seeds of Hope and those who donate to it.
Many in the audience would not have realised also that the choir made only a few appearances on the East Coast of Australia, and two of these were Forbes and Parkes.
The Rotary Club of Forbes has helped the Zambian orphanage by sponsoring Daniel Greef, a policeman based in Parkes. Daniel's expenses on his three visits to Ndola have been partly funded by Forbes Rotary, with the rest funded out of his own pocket. Daniel has been part of a team which has constructed classrooms and dormitories for Grace Academy.
If you wish to know more please contact the Rotary Club Forbes Secretary, Christine Hawke on 0409 661 358 or Google Seeds of Hope Australia.
Contributed By Rotary Club