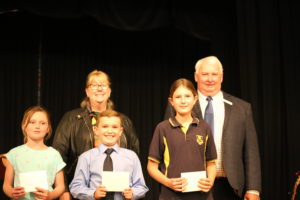 Forbes Heritage 2018 has once again seen a variety of events undertaken to celebrate the people and places of Forbes in times gone by.
Events such as the Antiques Roadshow, saw people travelling from as far as Cowra, Grenfell, and Condobolin to gain insight on the little pieces of history handed down through generations.
Another important feature was the open days of the Forbes History Group and the Forbes and District Historical Museum.
The 2018 Forbes Heritage Presentation Evening held last Tuesday, was an opportunity to recognise organisations and individuals, for their contribution to preserving the history of Forbes. The prestigious Forbes Medal for a Heritage Project was awarded to Forbes Shire Council for conservation work to the Forbes Library.
The Volunteer Award was awarded to the Forbes and District Historical Society for their tireless work to preserve Osborne Hall and the thousands of artefacts on display.
The presentation night was also an opportunity to involve school children in Heritage with colouring and drawing competitions.
Getting first place in the colouring competition was Jackson Beaudin, second place went to Isabella Chen and third place to Adam Cuskelly. Ellie Mitton took first place in drawing, Archie Quirk second place and Phoebe Walker third place.
In the Open Art competition, first prize was awarded to Sampa Bhakta and Keith Mullette took out the drawing section.
Karen Ritchie was awarded first place in the photography section and second prize went to Cheryl Barton.