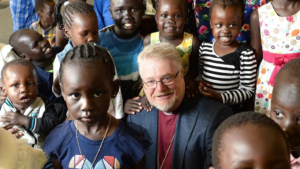 Retired Archbishop Jeffrey Driver will be visiting the St John's Anglican Church Hall in Forbes on Wednesday, 27th June at 7pm.
Reverend Jeffrey will be speaking of his work and putting on a slide show of a theological college restoration in New Guinea.
Jeffrey originally from Cowra, first came to Forbes as the Editor of the Forbes Advocate during the 1970's. He became involved with the Anglican Church under the wing of the late Father Doug Peters. Jeffrey went on to study with the Anglican Church in Victoria but was still a regular visitor back to Forbes.
Jefferey became involved with the youth church services and Teen Challenge Drug Rehabilitation in Forbes. Later he went on to serve in Orange and many other parishes in NSW and Victoria. He also has done a lot of work in Africa, written much and has became the Archbishop of Adelaide until he partially retired in Victoria… to go fishing.
At the request of the Anglican Mission Board, Jeffrey has spent much of the last 12 months working at restoring the Popondetta College in New Guinea.
The living conditions are difficult with no running water, little power, cottages falling down and infected with all sorts of creatures. The college is changing slowly for the better.
Come along, be encouraged and support this amazing ministry! Jeffrey will share with the community about the work being done up there. There is also an opportunity for a keen group to go assist with this important work.
A light supper will be provided and the opportunity to contribute to the work.