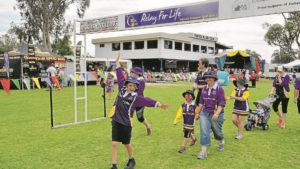 The Forbes and District Relay For Life event will take place from 12th to 13th May at the South Circle Oval. This year's theme for the Relay For Life is 'Forbes Farming Games'. A nod to the agricultural industry in the area with a competitive edge, after experiencing all the Commonwealth Games action.
Participants are encouraged to decorate their campsites, dress up and get involved with fun farming inspired challenges and activities like the hay bale obstacle course, gumboot throw, wheelbarrow race, petting zoo, agility demonstrations and much more. There will be lots of country music and plenty of action for everyone to get involved in, get ready for a boot scootin' good time!
Relay For Life is a fun and moving overnight experience that raises vital funds for Cancer Council's research, prevention and support services. It's a chance for communities to recognise and celebrate those who have overcome cancer or are undergoing treatment, as well as the people who care for them. Relay also provides an opportunity to celebrate the memory of loved ones lost to cancer.
Now into its ninth year, the Forbes community have got behind this worldwide movement and together raised over $347,000. These lifesaving dollars have helped Cancer Council NSW fund vital cancer research that has improved treatment and diagnosis for cancer patients in Forbes and across Australia. It has also provided funds for support programs that connect patients and carers around the country as well as advocacy initiatives and prevention programs that help reduce the risk of cancer in our communities.
Cancer Council NSW plays an active role in Forbes through programs such as Transport to Treatment in the Central West, our Eat It To Beat It Program ensuring primary school parents receive important information on good nutrition and Sun Sound reminding individuals to use sunscreen and cover up when in the sun.
Join the thousands of Australians who take part in Cancer Council's Relay For Life each year in the fight against cancer. Start or join a team in the Forbes and District Relay For Life 2018 Relay today!
Come along to a team information night to find out how you can make a difference through participating in Relay For Life. Already participating? Come along and we can answer all your questions about the day on Tuesday, 24th April at the Services Club Auditorium 6pm or Saturday, 5th May at the South Circle Oval 6pm.
For more information visit www.relayforlife.org.au/forbes or call Cancer Council NSW Orange Regional office on (02) 6392 0800.