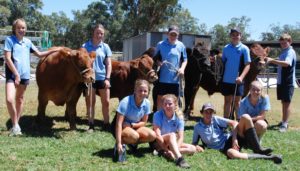 The Red Bend Catholic College cattle team will be representing their school at the Sydney Royal Easter Show on Friday, 23rd March at the Sydney Olympic Park. The team of 10 students will be attending the Sydney Royal, one of the most prominent and prestigious cattle shows in Australia, for a week and have been preparing their steers for the show since last year. It will be the 15th Sydney Show that the school attends.
With just over two weeks to go, Cattle Team Coordinator Susan Earl said the students continue to handle, groom and wash the animals in the lead up to the show where they will be presenting steers for the Hoof and Hook competition.
The students feed the animals, keep the water troughs clean and perform other jobs during most lunches, after school and sometimes even during sport time. "They have also been teaching them how to walk around the ring and how to stand with their feet. A cattle cane is used to help the steer stand square to enable the judge to see the animal from the side, back and front.
"What we are producing is the best steer that has the most amount of meat on it withthe right amount of fat in the right places," Susan said. According to the Royal Agricultural Society (RAS) of NSW, up to 30 breeds of Beef cattle will compete in the Sydney Royal Cattle
Show, with up to 1,200 nominations.
"Sydney Royal Competitions set the benchmark for agricultural excellence that underpins Australia's agricultural performance
ensuring a viable and prosperous future for our rural communities. "For Sydney Royal competitors, a win is testament of achievement at the highest level," the RAS website states.
"It is recognition of dedication, ability, uncompromising diligence and sheer hard work."
Last year the Red Bend cattle team had one of their biggest years when they took home two gold medals, two silvers and a bronze and were named Reserve Champion Heavyweight Carcass. Susan believes the students benefit from the agricultural activity in many ways.
"They get the opportunity to experience a bigger world out there. "I've been doing it for a long time and just love it! Not only is it a pretty special competition to be a part of but it also gives the students a chance to learn more about the cattle industry and to see Sydney."
By Gizell van Wyk