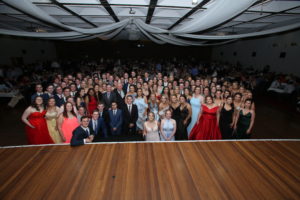 The Red Bend HSC class of 2017 has much to celebrate as many of the students have achieved fantastic results.
Graduates are marking the end of a anxious few months after receiving their HSC results yesterday.
"Red Bend Catholic College is pleased once again with the overall result," said College Principal Br Michael.
The College has 20 students being recognised as distinguished achievers with a band 6. A band 6 is equivalent to a mark above 90 per cent.
A further impressive 117 students have achieved a band 5, which is equivalent to a mark between 80 and 89 per cent.
A number of individual students have done tremendously well with some receiving 3 band 6s in their results.
"Speaking to some of the higher achievers this morning, it was clear that the students in general are very happy with their personal achievements.
"Every group of Year 12's is unique and we don't compare the results from one year to another but look at the group on its own merits," said Br Michael.
Br Michael said that in their opinion this group of Year 12 students should be congratulated on their results.
"I would like to congratulate as well, their dedicated teachers who have worked hard on their behalf."
The 2017 class have also benefited from the Early Entry Scheme for university.