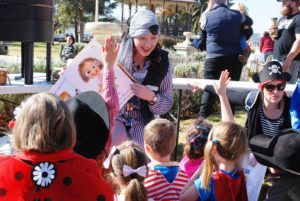 There were countless little scurvy scoundrels that couldn't wait to dig their fingers into the sand to find possible hidden treasures buried in Victoria Park last Friday.
The ever popular Reading Downtown Day coincided with Book Week and shared the theme, 'Find Your Treasure'. The theme depicting the search of discovering your next great book and an incredible story feeling like a treasure found.
Children celebrated story books by bringing their favourite characters to life. From pirates to clowns, Spiderman, Little Red Riding Hood and Where's Wally, approximately 800 very excited children could be seen exploring the park with inspired costumes and makeup.
The Reading Downtown Day is hosted annually by Forbes Birth to Kinder and aims to raise awareness about reading to children from a very young age.
Forbes Birth to Kinder committee member, Maree Yapp said that they were delighted to be having such a successful day.
"This is our 14th year of the Reading Downtown Day in Forbes. The weather is superb and we're really excited to have all the schools and early childhood centres here, and lots of families with young children," said Maree.
The day was packed with fun activities at various activity stations to keep the little book-loving ones busy! Among these stations were students of Forbes High School who put on a very entertaining drama of The Three Little Pigs. Familiar faces, such as Member for Orange Phil Donato, captivated the children with theatrical storytelling at another station.
By Gizell van Wyk