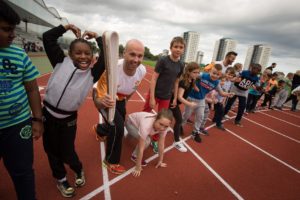 Australians can begin planning their Queen's Baton Relay (QBR) experience with the street-level detail and community celebrations now available to explore at gc2018.com/qbr.
People can now see where the Relay will travel, which streets will be lined with crowds, and the celebration dates to mark in their calendars across the 100-day journey in Australia leading up to the Gold Coast 2018 Commonwealth Games (GC2018).
After travelling an astonishing 288 days throughout the Commonwealth, the Queen's Baton will arrive onto Australian soil in Brisbane on 24th December 2017, having shared the dream of GC2018 with over one third of the world's population.
From its arrival until 24th January 2018, the Queen's Baton will engage with thousands of Australians at popular summertime events, iconic locations and children's hospitals around the country, starting in Melbourne on Boxing Day.
The Queen's Baton will scale Sydney Harbour Bridge, celebrate the Taste of Tasmania festival, be a part of the tennis action in Perth and Brisbane, hit the roads at the Tour Down Under in South Australia and respect the magic that is Uluru at sunset.
From 25th January 2018, the QBR will shift gears to a more traditional relay starting in Canberra, where the Queen's Baton will join Australia Day celebrations, before continuing in the hands of approximately 3,800 batonbearers through every state and territory.
As the Queen's Baton travels the length and breadth of Australia, it will not just pass through, but spend quality time in the communities it visits, calling into hundreds of local schools and community celebrations along the way.
The Queen's Baton will arrive on the Gold Coast for the XXI Commonwealth Games Opening Ceremony on 4th April 2018, where His Royal Highness The Prince of Wales will remove Her Majesty's message and read it aloud to declare the Games officially open.