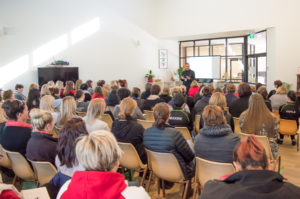 Forbes Preschool is receiving accolades from early childhood educators far and wide, after delivering a top quality professional development conference on 21 July. Amy Shine came up with the idea for The Moving Forward in Forbes conference to prove that the big cities don't hold a monopoly over excellence in these events.
"The preschool is one of the newest, biggest, most cutting-edge in the state. We thought, we need to showcase what we do. We're pretty humble about what we do. We need to show people that you can do anything if you put your mind to it."
Amy and her team booked international education expert Anthony Samaan twelve months in advance, and invited other speakers from around the local region. "Anthony was our keynote speaker and he ran some workshops throughout the day. We also had five other workshops and we found those presenters from within an hour's travelling time of Forbes.
"Everyone says there's nothing available. Well, there is. You just have to think outside the square," said Amy. The conference ran smoothly and was a raging success, with presenters and attendees providing rave reviews and eager to come back next year.
"We loved reading the feedback that came in from people. It was awesome. Made us feel proud," said McKenzie Morrison, of Forbes Preschool. It was such a success that Amy and her team plan to run an even bigger and better event next year.
By Rochelle Bright