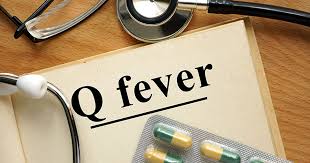 The Western NSW Local Health District (WNSWLHD) is warning people to get vaccinated and take other steps to guard against Q fever, as drought and high winds may increase the risk of the disease spreading. WNSWLHD Health Protection Manager, Priscilla Stanley, said so far this year there have been 47 confirmed cases of Q fever in the WNSWLHD area. In 2018, there were 41 confirmed cases of the disease in the area.
"Q fever is a serious bacterial infection caused by inhaling dust particles contaminated by infected animal secretions that does not just affect farmers or people who deal with livestock," Priscilla said.
Nine-year-old Seth Whiteman, from a property near Yeoval contracted Q fever in May this year. Seth's Mum, Brooke Ryan, said, "Seth had been helping on the farm, which included being exposed to animal fluids. Some of the other kids were sick too, but Seth wasn't getting better. He had high temperatures, but was shivering and freezing cold to touch".
"A single dose vaccine is recommended for people who work in high risk occupations and anyone over 15 years who has the potential to be exposed to Q fever," added Priscilla.
The following steps can protect against Q fever:
• washing hands and arms thoroughly in soapy water after any contact with animals
• wearing a properly fitting mask when handling or disposing of animal products
• wearing protective clothing and thick gloves when working with high risk animals
• removing and washing dirty clothing, coveralls, boots and equipment in outdoor wash areas to prevent exposing other household residents
• washing animal urine, faeces, blood and other body fluids from equipment and surfaces.