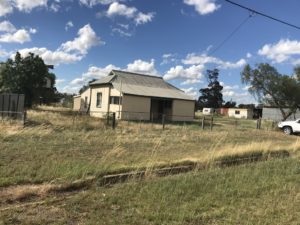 This property could well represent really good value for money if you are working with a modest budget.
There are three paddocks occupying 5,970 square metres which is approximately an acre and a half in old language.
A water well which is equipped with an electric pump, provides good quality water without any restriction on how much water you are allowed to use.
There is a great potential to set yourself up to be self sufficient on this property.
The two bedroom cottage appears solidly constructed, secure with good bones and would respond well to some TLC.
There are three large sheds capable of accommodating all manner of paraphernalia as well as an additional shed or animal shelter.
This property represents a sizeable portion of the small hamlet of Garema. Forbes is approximately 20km to the North and Grenfell about 53km South-East of Garema all on sealed roads.