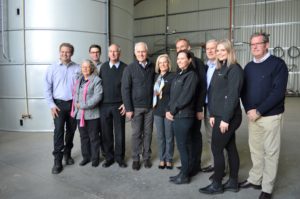 The Prime Minister was in Forbes on Sunday to announce further support for drought stricken communities.
"We are ensuring to provide help to farmers right now," said Prime Minister Malcom Turnbull at HE Silos in Forbes. "We are making changes to ensure farmers are even more resilient, as our farmers are the best in the world."
The assistance provides immediate relief to communities, tax breaks for fodder storage and simplifying the application form for Farm Household allowance.
An additional $75 million will be given to 60 councils, of which 30 are in NSW to address local needs. "This will mean farmers would be able to pick up water for free from the town stand pipe for instance," said the Prime Minister.
"Agriculture is a very big part of the Riverina and Central West and we will make sure we continue to closely monitor it and I will too, as the Local Member, make sure we certainly continue to have the farmers' backs," said Deputy Prime Minister Michael McCormack.
The grants will also allow Councils to employ local contractors to undertake repairs and maintenance, upgrade or build new community facilities and hold events and undertake drought-relief activities.
Minister for Regional Development, Territories and Local Government John McVeigh said: "We know drought is felt as hard on the main street as it is in the back paddock which is why our drought response is designed to help farmers as well as the towns and communities that surround them."
By Maggi Barnard