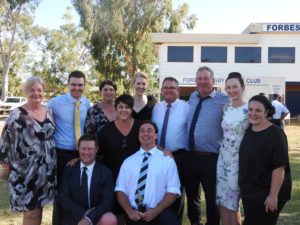 The seventh Forbes Rugby Union Club President's Lunch has yet again proven its immense growing popularity with a record number of 885 guests attending the event this year. The shindig was held last Saturday at the South Circle Oval under a marquee with 86 sold out tables.
The major annual fundraiser for the Club has become a popular social gathering, with people from as far as Sydney and throughout the Central West freeing up their calendar for the occasion.
"It has been the most successful and biggest function ever," said Chris Sweeney, member of the organising committee.
Chris also remarked that one of the most outstanding features of the lunch was the behaviour of the huge crowd and the respect shown for each speech.
Author, poet and sports commentator, Mick Colliss was this year's guest speaker and captivated the audience with his master storytelling. Whilst growing up, Mick desperately wanted to represent Australia.
He tried everything from rugby union to lawn balls, but wasn't good enough at any of them. Then, when all hope seemed lost, he discovered Sudoku, and so finally got his chance to represent his country at the World Sudoku Championships.
Club President, Tracey Prior gave a very moving speech wherein she spoke of the success in winning the premiership and acknowledged everyone that contributed to the club.
Another significant moment was the launch of the Peter Murphy Foundation. The purpose of the foundation is to support people living in Forbes and the district that need a hand up. The Peter Murphy Foundation managed to raise an incredible $12,000 through donations on the day. Over $30,000 was raised through auction items.
As part of the auction a 2017 Forbes Rugby Premiership tie was auctioned for $1,700 of which the proceeds went to the Peter Murphy Foundation. Other items auctioned was a framed signed Forbes Rugby forty year anniversary jumper "The Best So Far" which was auctioned off for $4,500, a framed signed 2017 Wallabies jersey for $3,600, a Rosie Johnston painting "Kerry and Caviar" for $5,500, a gourmet dinner for 10 at award-winning Ester Restaurant and Bar for $7,500 and a gourmet dinner for 10 courtesy of Eat Your Greens Function Centre for $8,200.
"The function ran very well from the food that was catered by Eat Your Greens, to the bar service."
"Not only can we put on a good party, we can also play really good footy," said Chris.
By Gizell van Wyk