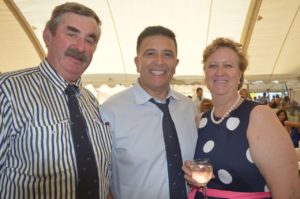 Stand-up comedian Vince Sorrenti was taken aback last Saturday that a small country town like Forbes could organise such an outstanding event.
The sixth Forbes Rugby Union Club President's Lunch has been described as the best ever with 820 guests joining in a spirit of friend- liness, politeness and generosity. "The food was magnificent, the crowd unbelievable and the weather was great," said Chris Sweeney, chairman of the organising committee.
The Eat Your Greens Gourmet Dinner for 10 went for $10,000, a surprise Dinner with Vince for 10 at Ester in Sydney went for $9,500, the Wallaby jersey reached $2,000, a painting $6,000, a red gum mirror $2,200 and the winners of the $1,000 Platypus Charity Draw opted to donate the funds to the Garland Family.
"The support for auction items was just amazing and we are able to donate $10,000 to Batyr, far exceeding our expectations," said Chris. While Vince's entertainment was rated by many as the funniest they had ever seen, the comedian was equally impressed by the way the Forbes community look out for each other.
"I am extremely proud and happy to lead such a tremendous committee who can put together such a great event. All the happy, smiling faces at the event made me very happy," said Chris