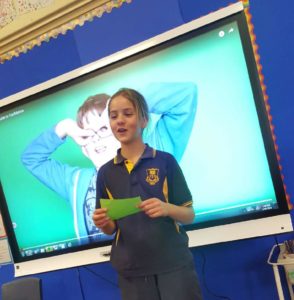 Each term students in Years 3 to 6 participate in a leadership day held at Forbes Public School. This is an innovative and interactive day where they are equipped, challenged and inspired with skills that will enable them to have success in a number of dynamic areas of personal development.
This term the leadership day was held on Thursday, 2nd August and the school was privileged to feature David Acheson as the guest speaker who started off the day's proceedings. David is an aboriginal elder involved in the local Aboriginal Education Consultative Group (AECG).
This was a wonderful opportunity for students to gain insight about aboriginal leadership from a local identity. Also on the same day, students who were candidates for the upcoming Junior AECG, delivered speeches to the audience as part of a leadership election process.
"It was fantastic to see the children speak with confidence and clarity to such a large group of individuals," said Forbes Public School Principal, Dafydd Thomas.
After the formal address in the hall, students eagerly moved on to a great part of the day where they dispersed into constructive workshop groups. These groups had specific focuses to enhance their personal skills in target areas. They gained insight into developing public speaking skills, extending social skills to have success in various settings, resilience training, team building and goal setting.
At the end of the day, students were treated to a warm sausage sizzle on a freezing cold day.