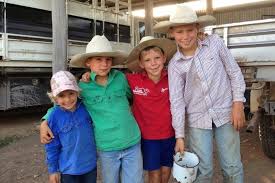 Around Australia, about 20 per cent of onfarm injury fatalities are to children under 15 years of age. There are many more injuries to children each year, some with lifelong consequences. The biggest risk is drowning, especially for children under five years old. Other major dangers include machinery and vehicles, particularly quad bikes.
National Farm Safety week runs from 17 to 23 July, and chairman of Farmsafe Australia, Charles Amstrong, is encouraging people on properties to take extra care, especially with kids. "Too many children are injured, or worse, killed on our farms each year," said Charles.
"We recommend all farms have a secure safe play area for children under 5 years. Whether you are parents of young children, a grandparent, or simply have kids visiting on your property every now and then, a secure play area is a must.
"As an industry, we have reduced the number of farm injury deaths by almost 60% over the past two decades, but we need to do more," he said. He adds that there are two things people can do right now to provide a safer environment for children who live on or visit their property. "Make sure you have a secure safe play area and not to allow children on quad bikes. In 2016, three children were killed
riding quads. The risk is not worth it. Kids don't have the physical size, strength, coordination and emotional maturity to safely operate such a dangerous piece of equipment.
"It's not about wrapping them up in cotton wool, it is about taking sensible steps to reduce the chance of things going wrong". Further information can be found at: www.farmsafe.org.au or by contacting Farmsafe Australia on (02) 6269 5622 or your state Farmsafe group.