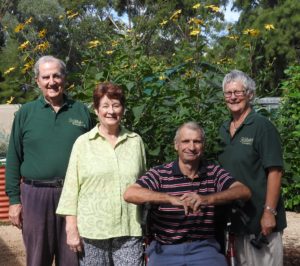 Among the many friends of the Forbes Riverside Community Garden are two families spanning three generations with grandparents, daughter and partner and grandsons actively.
Meeting with some of the founding members, The Forbes Phoenix wanted to learn what attracted people to join. "It's so peaceful here, and sheltered from the wind and weather," said Leo Curran. Anne Hodges agreed adding: "We are just so blessed to have this space."
According to Denis Irvine, friends can choose what they would like to grow, "however we do encourage the growing of clean, organic food."
The community garden is a picture of perfect health with an array of raised garden beds bursting with fresh vegetables, herbs and flowers. There is a passionfruit vine, citrus and mulberry trees as well as mounds where pumpkins, rockmelons and asparagus grow.
"We cater for people of all abilities, ages and walks of life, and love to share our gardening knowledge. Mind you there is never a day where we don't learn something new," said Leo.
The community garden falls under the auspices of the Forbes Shire Council, and has been successful in attaining two grants. However nowadays they supplement the grant money with the sale of sea- sonal fruit, vegetables, potted vegetable and herb seedlings and dried herbs. "We have also received excellent support from many Forbes businesses, farmers and producers, we are very grateful to," said Denis.
The Community Garden is always looking for new friends and open to anyone wanting buy fresh seasonal vegetables and herbs. The gardens are located within the former State Forest Nursery in Reymond Street and are open from 9 to 11am Monday to Saturday.
Visiting the garden you will easily understand the friendly volunteers' motto: Plant three rows of peas; peace of mind, peace of heart and peace of soul.
By Dianne Collie