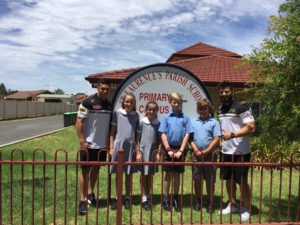 Forbes was running high on rugby league fever last Thursday when two Penrith Pan- thers players visited local schools as part of the NRL Community Carnival.
Josh Mansour and Soni Luke visited five schools in the morning to talk about respect and diversity and in the afternoon they were at Spooner Oval to meet fans, hand out autographs and pose for photos.
Many children brought shirts and caps to be signed, while the NRL also had posters with a team photo of the Panthers signed by the two visiting players.
The morning sessions at the schools focused on the importance of respect, belonging and celebrating differences both on and off the field.
The NRL Community Carnival takes players throughout Australia and New Zealand this month to meet fans in more than 80 communities.
Now in its 17th year, the NRL Commu- nity Carnival is supported by every NRL club and NRL Ambassadors, and will reach more than 250,000 kids, visit more than 1,000 schools and travel more than 40,000 km.
To play JRL in Forbes, interested players can contact Matthew Little on 0418 666 550 at the Forbes Magpies JRL, or Mat- thew Toohey on 0450 878 889 at Red Bend JRL.