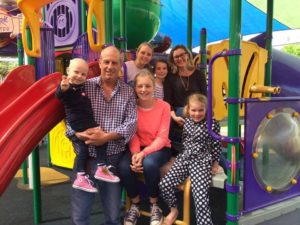 Almost a year and a half ago Kathy and Andrew Garland received devastating news that changed their family's life irrevocably. Their youngest daughter, Ava, then only three years of age, was diagnosed with Leukaemia.
Within moments of receiving the news from a local doctor, Ava and her mother Kathy were rushing to the Children's Hospital at Westmead in Sydney where Ava would receive treatment.
Kathy says, "Unfortunately, most families have been affected by cancer in some way. Cancer didn't have much of an impact on my life, until five years ago when my mother passed away from Cholangiocarcinomas cancer and then later, Ava's diagnosis."
The Garland family could also not have foreseen that it would be nine months before Ava and Kathy would finally return home from Sydney. Separation from one another during the time of Ava's treatment proved to be a major factor for the Garland family.
"Can Assist Forbes almost immediately got in touch and offered us fuel vouchers. This made more frequent visits to Sydney possible for Andrew and our four other daughters," said Kathy.
As a gesture to show their eternal gratitude and to give back, the Garland family have made a donation towards one of the largest fundraisers for Can Assist Forbes, Dancing With The Stars.
Kathy explains, "Can Assist is an organisation that works behind the scenes and comes in quietly when someone in your family receives a cancer diagnosis."
"Ava has been doing well and her hair has started to grow back. She is still on chemo until June next year."
By Gizell van Wyk