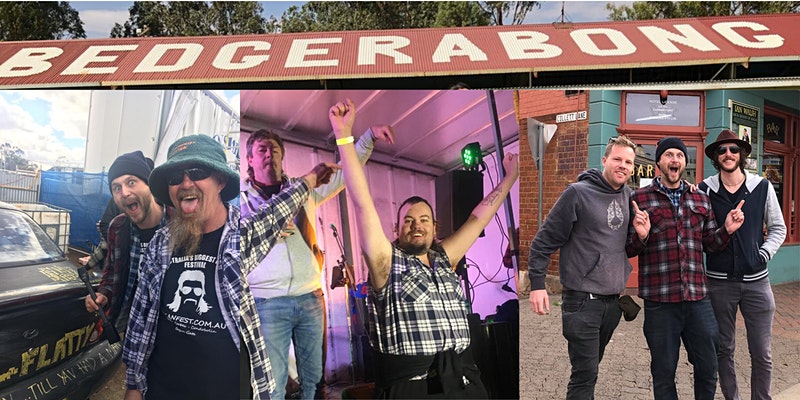 Fat Pizza and Houso's star Pauly Fenech will open this years Australia's Biggest Bogan Festival from June 11-13 at Bedgerabong Racecourse.
Fenech, who is also notorious for his big thong, will be doing a stand up set, interviews, shooting clips for his shows and having a crack at the record for thonging the most people (bogans) at one time and place. There will also be a bogan wedding with full program details to be announced next week – only a month out from the event.
"There'll be a car display, food vendors, cold beverages, lawnmower racing, mullet haircuts, promotions, comedy, activities and inevitably the crowning of Australia's Biggest Bogan by Chris Franklin and defending champ Ryan 'Bogan' Edwards," said Luke Acheson, co-founder of Australia's Biggest Bogan Festival.
"Studio 10s Daniel Doody (Channel 10) will also be in Forbes on Thursday, June 10 from 8am-12noon doing live crosses from Acheson's Mitre 10 and we encourage all locals to get in their Bogan gear and come down," he said.
"So if you think $80 for two nights camping, being an extra in Houso's and turkey gobbling by a bonfire is your idea of a good time get your tickets before they sell out!"
This year will also mark the introduction of demonstration sport Best Beard and Best Chest Hair (males and females) with organisers taking an all-inclusive approach at this years festival.
"We want everyone to come along," said Luke.
To volunteer, sponsor, become a vendor, attend or get involved you can find Australia's Biggest Bogan Festival on Facebook. Tickets are available at www.eventbrite.com.au/e/australias-biggest-bogan-festival-tickets-93021733509