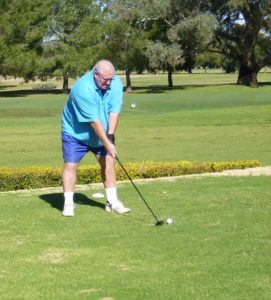 Last Saturday's Individual Stableford was won by Paul Kay in the A-division with the Wilf Hodges Memorial Trophy up for grabs.
Paul was very focused to record 42 points, which earned him the trophy. Run- ner-up was Tim West, who had a disaster on the 2nd hole, but managed to score points on every hole thereafter, finishing with 39 points. The B-division saw Milton Cartwright take the honours with 39 points. Only two points back was Gus Coles with 37.
The ball sweep went to 35 pts on count back: 42 – Paul Kay; 39 – M Cartwright, Tim West, Tony Cogswell; 38 – J Betland; 37 – Andy Cogswell, R Borger, Gus Coles; 36 – F Hanns, M Haley, B Collie, B Shine, M Watts, A Alley, 35 – P Dawson, P Barnes, R Webb and P Tisdell. The NTP's went to: 9th – P Dawson, 18th – D Churchill.
The field for Sunday's Stableford Medley was small, and the scores low. The winner was Ethel Coombs with 34 points, win- ning on count back from Bruce Carpenter. There was no ball sweep. The NTP's went to: 9th – S Kirkman, 18th – Ray Taylor.
A large group of Forbes players attended the West Wyalong Open on Sunday with Steve Betland the eventual winner, scoring 74 scratch to finish one better than a local player. The Forbes guys also picked up an NTP and a handicap award.
By Short Putt