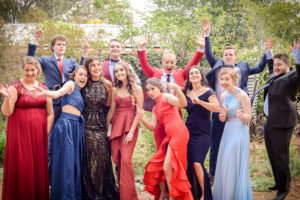 Parkes Christian School is celebrating its most successful HSC results to date. In just their fourth year of delivering the HSC, the school is very proud of the results achieved by their 2018 cohort.
Students achieved Band 5 and 6 results in Advanced and Extension English, Biology, Business Studies, Community and Family Studies, Design and Technology, Modern History and German Continuers.
Emma Greenland capped off a year to remember when she received her ATAR of 90.95 last Friday. Emma, who was named High School Dux and Best All-Rounder at the school's Presentation Night last week, received a Band 6 in Community and Family Studies, and Biology. She also achieved Band 5 in Modern History and German Continuers, and also Advanced English which she completed as an accelerated student in 2017. Emma will now be able to gain direct entry into a Speech Pathology Course in Sydney next year.
Elly Collins also achieved some outstanding results in Design and Technology and English Extension 1, in which she received 40/50 in an extremely demanding and academic course. This will put her in a good position to undertake an Occupational Therapy degree in Port Macquarie, which she had already gained entry to through the Schools Recommendation Scheme.
Madelynne Capple achieved a Band 5 in Business Studies and will use her business acumen when she enters the International College of Management on Sydney's Northern Beaches in 2019.
High School Coordinator, Greg Ballantyne was thrilled with the results. "As a school we are really pleased for Emma.
Her results are the product of many hours of hard work and dedication," he said.
"But the rest of the group have also done extremely well and have bright futures ahead of them. Every student who applied for early entry to university received an offer, maintaining our 100 percent record over the past four years," said Greg.