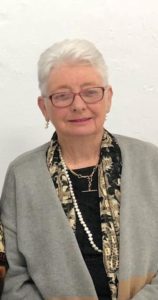 How long have you lived in Forbes and what do you like about living here? I moved with my husband, Ian to Forbes 29 years ago from Tottenham. We chose Forbes because of its lovely green and welcoming feel. We have found it a wonderfully friendly place to live.
Where do you work and what do you enjoy about your work? I retired in 2000 from my role as a Women's Health Nurse. Since my retirement I have sat on numerous Shire committees. I also founded the Forbes Breast Cancer Support Group before my retirement and before I was diagnosed with breast cancer.
What do you do to unwind after work or on weekends? I walk the lake six days a week and enjoy gardening.
What are you really good at? I hope I come across as a good listener and an advocate for women's issues.
If you could have a super power, what would it be? To bring peace in the world.
What is your pet hate? Negativity.
Tell us about your best holiday ever. Ian and I went on a three month world trip to Europe, England, Scotland, Ireland, Canada and Honolulu.