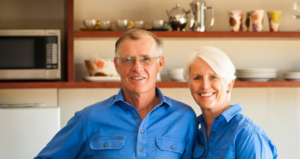 How long have you lived in Forbes and what do you like about living here? I have lived in Forbes for 40 years. I love our western landscape and the tremendous sense of community that life in a small rural town engenders.
Where do you work and what do you enjoy about your work? My husband, Kim and I live and work on a beautiful little organic river farm on the banks of the Lachlan, offering eco-accommodation and workshops around sustainable living, all of which I love.
What do you do to unwind after work or on weekends? Working in our developing permaculture food garden has to be my favourite way to relax and unwind.
What are you really good at? Finding irrigation pipes with the garden fork!
If you could have a super power, what would it be? The ability to convince leaders to act with civility, compassion and courage.
What is your pet hate? Negativity – hands down!
Tell us about your best holiday ever. We've spent a bit of time travelling overseas but camping in our magnificent Australian national parks is hard to beat.