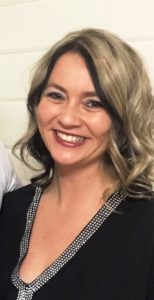 How long have you lived in Forbes and what do you like about living here? I have been living in Forbes for the last four years. Forbes is such a lovely community country town. The locals made us feel welcome from day one.
Where do you work and what do you enjoy about your work? I have been working at the Forbes Family Dentists for the last eight months. What I enjoy the most is meeting new people every day and working with such an awesome group of co-workers. I am also super excited about having joined the Phoenix team as of June.
What do you do to unwind after work or on weekends? Weekends are normally jam-packed with my kids' sports but after all that we love spending quality family time together.
What are you really good at? I am good at finding things to keep myself challenged! If your dreams aren't scaring you, they are not big enough!
If you could have a super power, what would it be? Knowing what will happen in the future and saving the world.
What is your pet hate? Laziness.
Tell us about your best holiday ever. It must be our Perisher ski holidays.