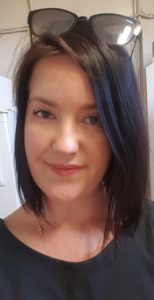 Jade McGovern
How long have you lived in Forbes and what do you like about living here? I have been in Forbes for just over seven years now. I like the country lifestyle… I never thought I'd be a "farm girl" but I actually enjoy it.
Where do you work and what do you enjoy about your work? I work for Council and operate out of the Visitor Information Centre. I really like meeting visitors and residents alike and hearing some of their incredible stories of travel or the history of our town.
What do you do to unwind after work or on weekends? I love to dance. I dance two to three nights a week doing ballroom and modern and have recently taken up women's soccer. I'm not sure that soccer helps me to unwind though.
What are you really good at? I can sing pretty well. I think I am pretty good at my dancing too.
If you could have a super power, what would it be? I would probably have to go with flying or teleporting. This way I could visit my family and friends scattered all over the country and overseas and see the world in a flash… and save a few dollars too!
What is your pet hate? Spelling errors, not being listened to and people dragging their heels when they walk.
Tell us about your best holiday ever. Travelling overseas with my sister to Italy (Rome, Naples and Florence), also France (Paris and surrounds) and then on to New York and Nashville solo.