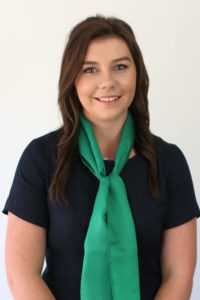 Stacey Clarke
How long have you lived in Forbes and what do you like about living here? I have lived in Forbes for 22 Years (all of my life). I like living in Forbes because it's such a friendly, pretty and historical town.
Where do you work and what do you enjoy about your work? I work at Ian Simpson and Co as a sales agent. I enjoy coming to work to see my fellow colleagues, interacting with new and familiar faces as well as keeping in touch with the market by listing and selling homes.
What do you do to unwind after work or on weekends? To unwind after work, I like to relax watching TV or cooking tea with my boyfriend, talking about the day and enjoying a cold beer!
What are you really good at? Fishing.
If you could have a super power, what would it be? If I could have any super power, I would love to be able to mind read.
What is your pet hate? My major pet hate is when there is a rattle in my car or someone else's when driving.
Tell us about your best holiday ever. My favourite holiday was when my mum, dad and I travelled over to America and Canada for a month. Tripping around in a jeep, visiting so many sights and catching up with family, who I haven't seen in years. This will always be such a memorable holiday!