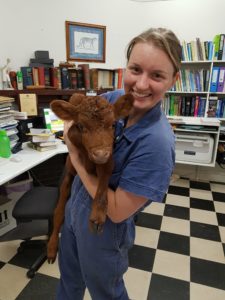 Tess Bailey
How long have you lived in Forbes and what do you like about living here? I moved to Forbes two and a half years ago. I love the people of Forbes who have all been so welcoming and made me feel part of the town. I have made some amazing friends here.
Where do you work and what do you enjoy about your work? I am a Mixed Farm and Companion Animal Vet at Lachlan Valley Vets. I love building relationships with my clients and patients and the variation in my work. I love working outside in a paddock or doing indicate surgery.
What do you do to unwind after work or on weekends? I love to unwind on the farm with my Koolie Pip and catching up with friends and family.
What are you really good at? I am really good at always being a bridesmaid, never the bride. I have been lucky enough to be involved 8 times in my friends' special days and I have picked up quite a few skills.
If you could have a super power, what would it be? To be able to time travel.
What is your pet hate? My pet hate is people who don't understand the whole situation, making judgement.
Tell us about your best holiday ever. My best holiday was when I volunteered as a Vet in South Africa. I was able to treat four day old lion cubs and do surgery on a rhino.