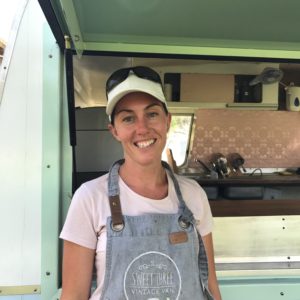 Monique Pointon
How long have you lived in Forbes and what do you like about living here? We have lived here for 12 months. We love that Forbes is a small country town with all of the conveniences of a larger town. We also love the lake and the friendly people.
Where do you work and what do you enjoy about your work? I own Sweet Three Vintage Van and run that on the weekend. During the week I raise my three young children. I love meeting new people and getting to know the local Forbes families.
What do you do to unwind after work or on weekends? Unwind… What's that? Lol! We like to catch up with family and friends.
What are you really good at? Making waffles! Haha. I enjoy playing netball and other sports.
If you could have a super power, what would it be? To predict what's going to happen in the future.
What is your pet hate? When people do not use their manners, fail to show respect and common courtesy.
Tell us about your best holiday ever. I attended a conference in Thailand when I lectured at CSU a couple of years ago and my family and I loved it! We also love travelling Australia and drove to Darwin and back in 2015 exploring SA, NT, QLD and NSW. The children still talk about both trips today.