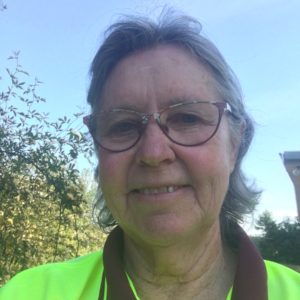 Robyn Kenny
How long have you lived in Forbes and what do you like about living here? My husband Terry and I moved here from Orange 43 years ago. I love being able to collect my mail at the Post Office each day and seeing the people I know there. I also love living in Lower Bathurst Street and like admiring the magnificent historic Forbes buildings.
Where do you work and what do you enjoy about your work? I operate a general freight transport business with my husband and also work part time for the Australian Wool Testing Authority based at Jemalong Wool Forbes. I like to see happy customers, and also the satisfaction of doing a good quality job.
What do you do to unwind after work or on weekends? I love to spend time with family and grandchildren and also coach netball and umpire. I also love to knit… I have been a knitting freak since I was a teenager.
What are you really good at? People would probably say… talking. I have been told I am a good fundraiser for community groups. They say I can sell anything to raise money for a good cause. I could even sell ice to Eskimos.
If you could have a super power, what would it be? There are so many things that need fixing in this world but if we could all have good health, we could probably tackle most things.
What is your pet hate? Definitely dishonesty, in all forms.
Tell us about your best holiday ever. I am not a very good holiday person so I don't have many but probably our trip to the Flinders Rangers many years ago.