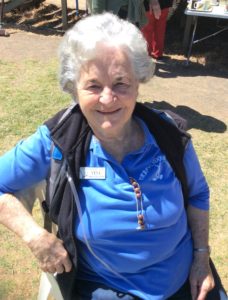 Veva MacCullagh
How long have you lived in Forbes and what do you like about living here?
I've lived in Forbes since I was a toddler and have enjoyed a good life among good friends and a supportive family.
Where do you work and what do you enjoy most about your work?
I'm retired and love volunteering at Jemalong Residential Village, teaching Tai Chi and helping with Friday's Happy Hour. I'm on the Forbes Riding for the Disabled (RDA) committee, and organise the roster and volunteers. I am on oxygen 24/7 but I help as best I can.
What do you do to unwind after work and on weekends?
I love country music musters and festivals and go when I'm able. Along with volunteering, I play croquet twice a week and attend Tai Chi at the Hospital with Master Trainer Libby Godden. I guess I'm a people person and love to help. I crochet to relax.
What are you really good at?
I'm good at keeping busy. I don't have time to be bored in retirement.
If you could have a super power, what would it be?
I would get more retired people out to participate and enjoy life in the great outdoors, perhaps volunteering at RDA, or having a friendly game of croquet.
What is your pet hate?
It's not being able to do what I once could, but now I have my oxygen sorted I'm thankful I'm not housebound.
What was your best holiday ever?
My best holiday was travelling Australia in our caravan seeing all the wonders Australia offers.