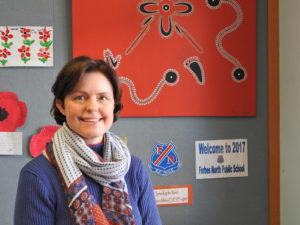 Maree Yapp
How long have you lived in Forbes and what do you like about living here?
I have lived in Forbes most of my life and love the country life, wide open spaces and friendly people.
Where do you work and what do you enjoy most about your work?
I work at the SaCC – a Schools as Community Centres at Forbes North. I get to do fun things like playgroups, mums groups, Birth to Kinder, real food tasting (for little people), and at the moment I am loving our FoodREDi course because the mums are awesome cooks!
What do you do to unwind after work and on weekends?
I enjoy a good stomp on the treadmill at the gym to unwind and spend my weekends following my kids at sport and music.
What are you really good at?
I'm really good at "having a go" because I am not really good at anything.
If you could have a super power, what would it be?
Sometimes I would like to be at two places at once, that would be super!
What is your pet hate?
I hate to see waste, food, clothes, anything that can be re-used.
Tell us about your best holiday ever.
Beach front holiday house at Kiama with nowhere to be, with a good book, wine and my hubby looking after the kids.