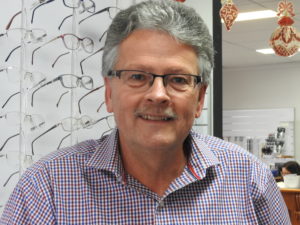 How long have you lived in or around Forbes? I have lived here most of my life… but not all of it yet. I first moved to Forbes as a Red Bend Boarder in 1965. Red Bend was my Forbes home for six years. I moved back again in 1976 to open my business.
Where do you work? I opened my optometry practice in 1976 – was 40 years ago in July! My practice is now located at 67 Rankin Street, Forbes. I sought higher ground from my Cross Street practice after being flooded out in 1990.
What do you enjoy most about your work? I really enjoy meeting a wide variety of people and hopefully sending them back out to see the world more clearly.
How do you start your day? Nothing beats a dense shot flat white with Girra Girra Sourdough and their free range eggs.
What makes your day? Anything that makes me laugh, or being with friendly, happy people.
Who would you most like to have dinner with? Any or all of my wonderful friends.
Where would you like to go on your dream holiday? Santorini and the Greek Islands – just to relax.